On-Farm Solutions. Science-Based economics
Complete dairy, swine, poultry and beef feeding programs take into account animal nutrition requirements that balance rations and fulfill producer performance and production goals for their herds and flocks. Feedstuff availability, quality of forages, costs of nutrients and seasonal factors help Daco Nutritionists custom balance rations based on science, to ensure the economics of premix solutions perform with your on-farm resources.
Daco Animal Nutrition has been a leader in the manufacturing and distribution of a wide range of vitamin and trace mineral premixes for swine, poultry, dairy and beef producers. Customers rely on Daco's manufacturing and formulation expertise to produce custom feeding programs that include: Vitamin Premixes Mineral Premixes Micro Premixes Complete Feeds and Feed Ingredients
In 2002, Dr. Sylvester Sebastian joined the Daco team and developed a new Daco beef nutrition program. Today, Sylvester focuses on custom formulation for Daco's beef customers. Dr. Sebastian believes in real custom formulation because there are no two farms that have the same feed, forage, genetics, expectations or goals.
"Feed analysis and custom formulation give the maximum performance with minimal cost. There is no over feeding or under feeding of nutrients in custom formulation. It works." Dr. Sylvester Sebastian, Daco Beef Nutritionist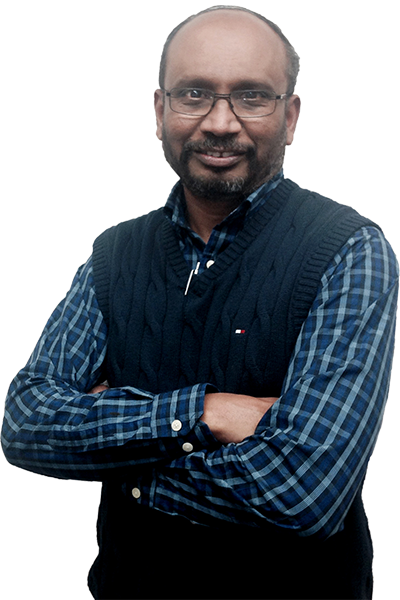 Daco Animal Nutrition is a provider of custom livestock and poultry nutrition solutions and your source for on-farm consultation and leading formulation support.
What is available on-farm is critical to the success of feeding premix and the economics that prove results for producers. Daco Nutritionists match the feedstuffs on-farm with the right vitamins and minerals, efficiently filling any nutritional gaps. Producers find they can achieve the best return on their rations with custom premix integrated solutions.
With production facilities in Ontario and Quebec, and backed by our on-site laboratory, Daco is an industry leader in Eastern Canada in the development and manufacturing of competitive, performance premix products. Feed is the single largest input cost for livestock producers. By ensuring the balance of feedstuffs such as hay, silage or small grains and by checking the quality of total mixed rations (TMR) we can "blend" animal nutrition and gear it towards performance and return specific to your farm.
Whether we are sourcing local ingredients, delivering quality premixes or ensuring price competitiveness, our top priority is always to provide our customers with effective, value-based nutrition programs that take advantage of every adjustable level only analysis can uncover.
ENVIR-O-BLEND
VITAMIN-MINERAL SWINE PREMIX
SUGGESTED MIXING INSTRUCTIONS per 1,000kg
Premix
Soybean Meal (47.5%)
Corn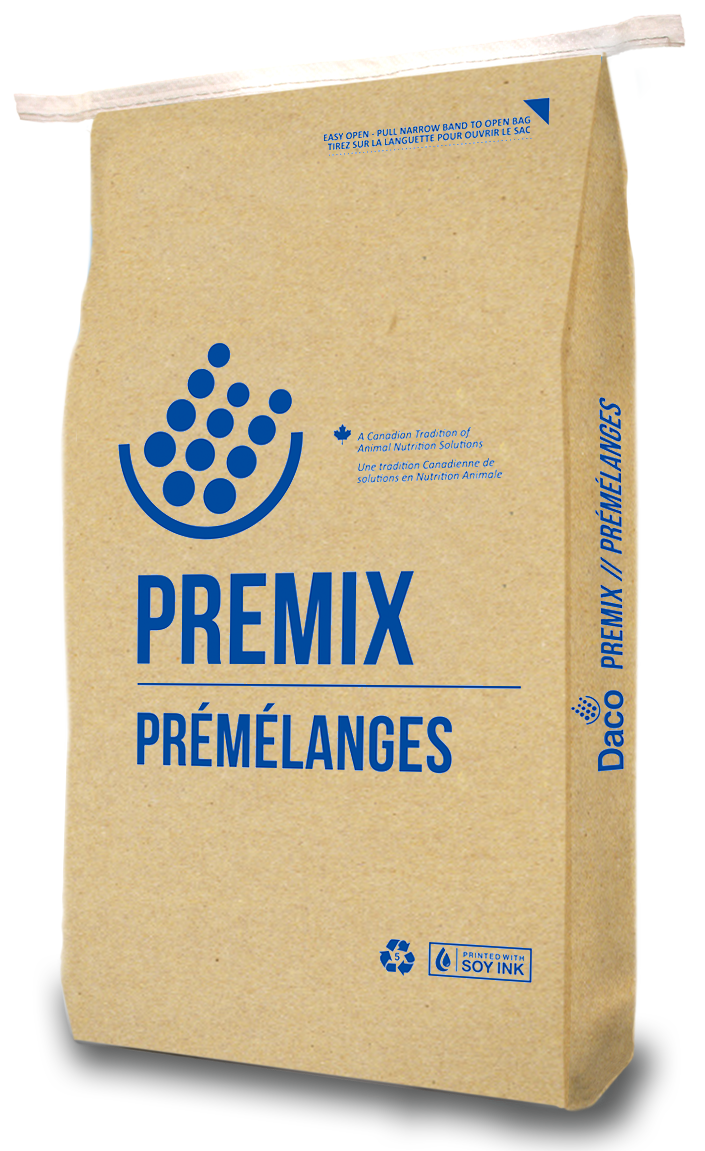 THIS FEED CONTAINS ADDED SELENIUM 13.6 MG/KG. GUARANTEED ANALYSIS:
Crude Protein (minimum)

4.30%

Calcium (actual)

21.9%

Phosphorus (actual)

6.7%

Sodium (actual)

5.4%

Salt (actual)

13.6%

Magnesium (actual)

1.0%

Iron (actual)

6,440 mg/kg

Manganese (actual)

2,100 mg/kg

Copper (actual)

732 mg/kg

Cobalt (actual)

5.0 mg/kg

Iodine (actual)

27 mg/kg

Zinc (actual)

9,065 mg/kg

Vitamin A (min.)

370,000 IU/kg

Vitamin D3 (min.)

50,000 IU/kg

Vitamin E (min.)

1,590 IU/kg
More Products
To better serve our customers, Daco delivers our products in three convenient ways:
bags, totes and bulk truck.
25kg
BAGS
1 tonne
TOTES
20 tonne
TRUCK
Stratford, ON
519-273-3023
1131 Erie Street
P.O. Box 753
Stratford, ON
N5A 6W1
---
Hours
8:00am to 5:00pm
Monday to Friday
Closed
Saturday and Sunday